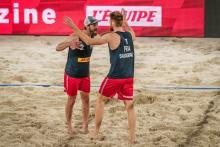 Evening session
Semi-finals
•
Roland-Garros Stadium
Evening session
The ticket gives access to the Philippe-Chatrier court and the entertainment village on the Place des Mousquetaires.
Matches take place from 7pm to 11pm.
From 5 p.m. to 7 p.m., you'll have access to "Welcome to the beach "*, a huge session of entertainment for all on Place des Mousquetaires: entertainment, games, gifts, access to food trucks, the presence of players for chat sessions, autographs and beach volleyball initiations on the annex courts.
whoops!
This product is currently unavailable for sale
Back to Home